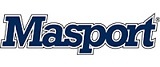 Masport's Outdoor Garden & Lifestyle Products are proudly designed and engineered in New Zealand and sold all around the world.
Regardless of whether you've got a small backyard or a small farm, Masport Lawnmowers help make your garden maintenance jobs easy, fun and effortless.
Most Masport Lawnmowers have been designed to meet the needs of the heaviest lawn conditions and the longest mowing times, therefore they are built to last. With over 100 years of manufacturing experience, Masport combines quality and innovation with reliability you can trust.

At STIHL SHOP we stock the high-quality President Range of Lawnmowers click here to view the range