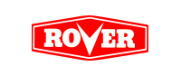 Rover – at home outdoors.
With over 50 years of experience, Rover offers a range of durable Ride-on Lawnmowers for those with larger areas to mow and efficient powered garden shredders for those tough yard jobs.
With a significant presence in international markets, Rover is one of the leading brands for Ride-on Mowers.
The Rover brand's success reflects its high efficiency grass catching and mulching designs and an enviable reputation for product reliability. The cutting and shredding systems are based on a platform of highly efficient, low emission, four-stroke engines. The company maintains a dedicated research and design capability, closely linked to its customers and international strategic partners.
With Rover, no job is too big or too small.
Click here to see our range of Rover Ride-on Mowers.