THE RIGHT STIHL CHAINSAW FOR YOUR JOB
At STIHL, we understand that choosing the best Chainsaw is a big decision and there are many things to consider. We also understand that Chainsaws can be daunting if you've never even used one before, let alone owned one. Our range includes, Petrol, Battery and Electric models. We have small Chainsaws for jobs around the garden right up to the big saws used by professionals in the forest. With so many options, how do you choose?
As the No. 1 petrol Chainsaw manufacturer in the world, STIHL knows a thing or two about Chainsaws so check out our Chainsaw buying guide below.
HOW LONG ARE YOU GOING TO USE THE CHAINSAW FOR?
Are you going to be using your Chainsaw all day every day? Or only once or twice a year? Chainsaws that are designed to be used for long durations have higher quality components and therefor cost more, they can also be heavier. If you are only going to be using your saw a few times a year for trimming branches and general clean up work a home user Chainsaw will be sufficient. However, if you use your Chainsaw regularly for long durations, you will appreciate the extra power and features of the Chainsaws in the Farming Range.
WHAT ARE YOU GOING TO BE CUTTING?
The most important thing to consider is what you will be cutting. Will your saw be used to prune small branches from larger trees or shrubs? Will it be used to fell small trees in the garden? Or will it be used to saw your own firewood, turning the bigger logs into the perfect size for the fire?
If you know you need to get through larger branches or logs, the best Chainsaw for you may be one with a bit more power. But if the timber you are sawing is smaller, then one of our lighter weight or battery models will be ideal. Although it may be tempting to think bigger is better, we would always suggest that you use the lightest saw for the job. A saw that is comfortable to use is also safer to use. Find a well-balanced machine with a good power-to-weight ratio: light enough to handle with the power to do the job.
Another good tip is that although it is not as convenient a larger saw can always be used for smaller work but it is not possible to use a small Chainsaw to cut big logs, so always select your Chainsaw based on the largest jobs you are likely to do.
COST
What can you afford? Consider the life time you want from your Chainsaw and remember, "you get what you pay for". The question to ask yourself is "how often will I be using it"? If you will be using the saw regularly then you should consider buying a more robust model. If you are only using the saw occasionally we recommend buying the entry level model of the power class you need.
POWER
Larger wood needs a larger bar and chain and therefore more power to drive it. STIHL chainsaws are always spec'd with the ideal power for the bar that comes standard when you purchase the saw. Consider the bar length you need as a guide but be mindful that the larger the bar, the heavier and more cumbersome the saw is to handle.
WEIGHT
A heavy Chainsaw may have more power, but it can also be more tiring to work with. Safe operation of the saw requires that you can confidently hold onto it for the duration of your work.
STIHL BATTERY CHAINSAWS

Our cordless battery Chainsaws are some of the lightest in our range, you cannot beat them for ease and convenience, no fuel to mix just push the button and go. Battery Chainsaws are also very quiet, so quiet you don't even need to wear ear muffs, and they have no exhaust. The MSA 120 C-B and MSA 140 C-B are part of our AK System of battery tools and are perfect for cutting branches or sawing firewood. You will get approximately 100 cuts of 10cm x 10cm from one battery charge with these saws depending on the softness of the timber, they will also make quick work of pruning thick hedges and branches up to 30 cm in diameter. They both include the STIHL quick chain tensioning feature so you can tighten the chain without tools. The batteries in both of these saws are interchangeable between the other tools in the AK System so you can pop the battery straight into a Blower, Line Trimmer, Lawn Mower or Hedge Trimmer when you're done.
If you need to cut larger logs and branches or even fell small trees, then the MSA 161 T, the MSA 200 C-B and the MSA 220 are great options, part of the AP System, alongside over 25 other battery-powered tools, these three saws offer more power than the AK range. The MSA 161 T is also a top handle saw and a great option for Arborists working in noise sensitive locations.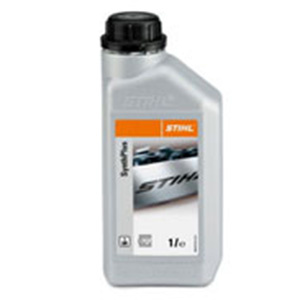 The MSA 220 is a professional grade battery Chainsaw, when used with the AP 300 S battery it offers performance that matches the high levels of our petrol range, this is a very popular option for Farmers and Fencers.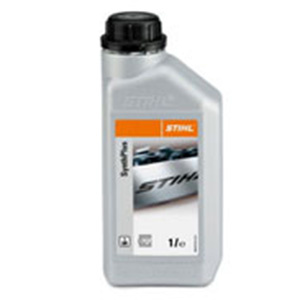 All of these saws benefit from low vibrations and zero emissions. They are easy to start and use for those not confident in handling a petrol machine, with no need to pre-mix fuel and no risk of fuel going stale in your machine if you only use it occasionally. You will need to top up the chain oil but STIHL's Ematic chain lubrication system provides maximum lubrication, longer wear and less oil consumption than conventional methods of chain lubrication. The transparent oil tank also means that you can easily see when you need to top up. We generally recommend topping up the oil when you swap or recharge the battery.
The down side to working with battery Chainsaws is the limitation of power in regards to the larger capacity saws. If a small to medium Chainsaw is all you need, then this is not a problem. If you plan to work for long periods of time it is a good idea to have more than one battery.
STIHL PETROL CHAINSAWS
Petrol Chainsaws are the best choice if want to work for a longer amount of time away from a power source as you can take fuel with you and mix it on the go! Based on the current capability of battery, petrol also offers a wider range of power options (particularly higher power / larger saws). The down side to petrol is the higher maintenance requirements and the need to mix and store fuel. Also there is the noise, exhaust and environmental considerations.
To operate your petrol chainsaw you need a mix of petrol and engine oil to power and lubricate the engine. The recommended mix is 1 part engine oil with 50 parts petrol when using STIHL HP or HP Ultra 2-stroke oil (100ml oil to 5L petrol).
HOME USER PETROL CHAINSAWS
The Chainsaws in the Home User range are designed for cleaning up around the house and cutting firewood to size. Entry level petrol Chainsaws like the STIHL MS 170 and MS 180 are a great value / low cost option for those with larger gardens or life style blocks.
The STIHL entry level Chainsaws have many of the same design features as the STIHL professional saws used by forestry workers, these include:
Anti-vibration System
Vibrations from power tools can lead to negative effects on blood vessels. STIHL has developed a system for minimizing the levels. This also helps reduce operator fatigue and provides a more comfortable working experience.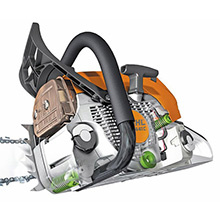 Single Master Control Lever
All the important functions of start, choke, throttle and stop are operated via a single lever.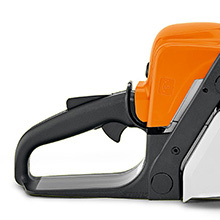 Ematic Chain Lubrication System
A reservoir holds bar oil until it is picked up by the passing chain. This achieves maximum lubrication resulting in longer wear and less oil consumption.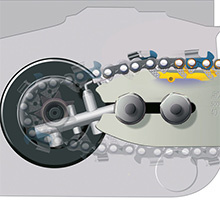 ADDITIONAL STIHL FEATURES
For those of you that want your Chainsaw to work just that little bit harder for you, as you move up through our range the models include additional features, these are sometimes indicated by the letters at the end of the model names. Here's a quick guide to some of these features:
C = Comfort
You will see this at the end of a model name (for example, in the MS 181 C-BE) denotes that the saw is a Comfort model. This means the Chainsaw has additional features designed to make it more comfortable to use.
E = ErgoStart & Primer
STIHL's innovative technology designed to make starting a petrol saw easier. The secret is an additional spring between the crankshaft and the starter rope rotor and when you push the primer button a small fuel pump delivers fuel to the carburetor. As a result the machine is easier to start.
B= Quick Chain Tensioning
Makes it very easy to tension the chain. Simply release the sprocket cover and turn the thumbwheel to set the optimum tension. You should never operate a saw with a loose chain, however, no tools are needed to tighten the chain on any of the saws with a B in their model name so it couldn't be easier to ensure safe working.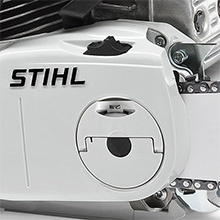 Side Chain Tensioning
There is a tensioning screw on the side of the Chainsaw through the sprocket cover. This is easy to use and removes the need for contact with the sharp saw chain.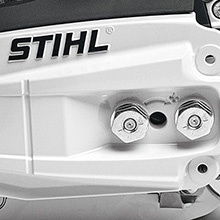 2 Mix Engine
Modern, powerful and economical engine. Provides fuel savings and reduced emissions.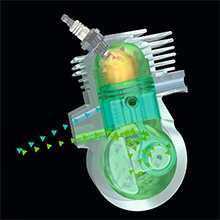 Easy Open Fuel and Oil Tanks
Special caps on the fuel and oil tanks allow for easy opening and re-fueling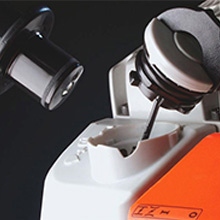 FARMING CHAINSAWS

Farming Chainsaws offer more power to handle more demanding jobs. They are great for tree felling, cleanup, and firewood cutting. Farming saws are designed for more frequent use, and can be operated day in and day out. Homeowners with lots of firewood to cut or regular tree felling to do around their home will appreciate the extra power and durability of the saws in this range.