The STIHL AK System is a range of battery garden tools that use interchangeable Lithium-Ion batteries designed specifically for medium to large gardens. The AK battery system is incredibly versatile, and provides performance and durability whilst being lightweight and easy to use. So quiet that you won't even need ear protection, all the tools have been designed so that anybody can operate them comfortably and confidently.
STIHL AK BATTERY CHAINSAWS
STIHL Chainsaws are world-renowned for quality and power, and the MSA 120 C-B and MSA 140 C-B Battery Electric Chainsaws are no exception. Lightweight and well balanced, they are a perfect choice for garden maintenance and cutting firewood, and they will also make quick work of pruning thick hedges and branches up to 30 cm in diameter. They both include the STIHL quick chain tensioning feature so you can tighten the chain without tools, and chain oil tanks with transparent viewing windows to ensure you never run out of oil.
Using the recommended AK 20 battery with the MSA 120 will give you approx. 40 minutes run time - or enough time to make 120 cuts in 10cm x 10cm timber.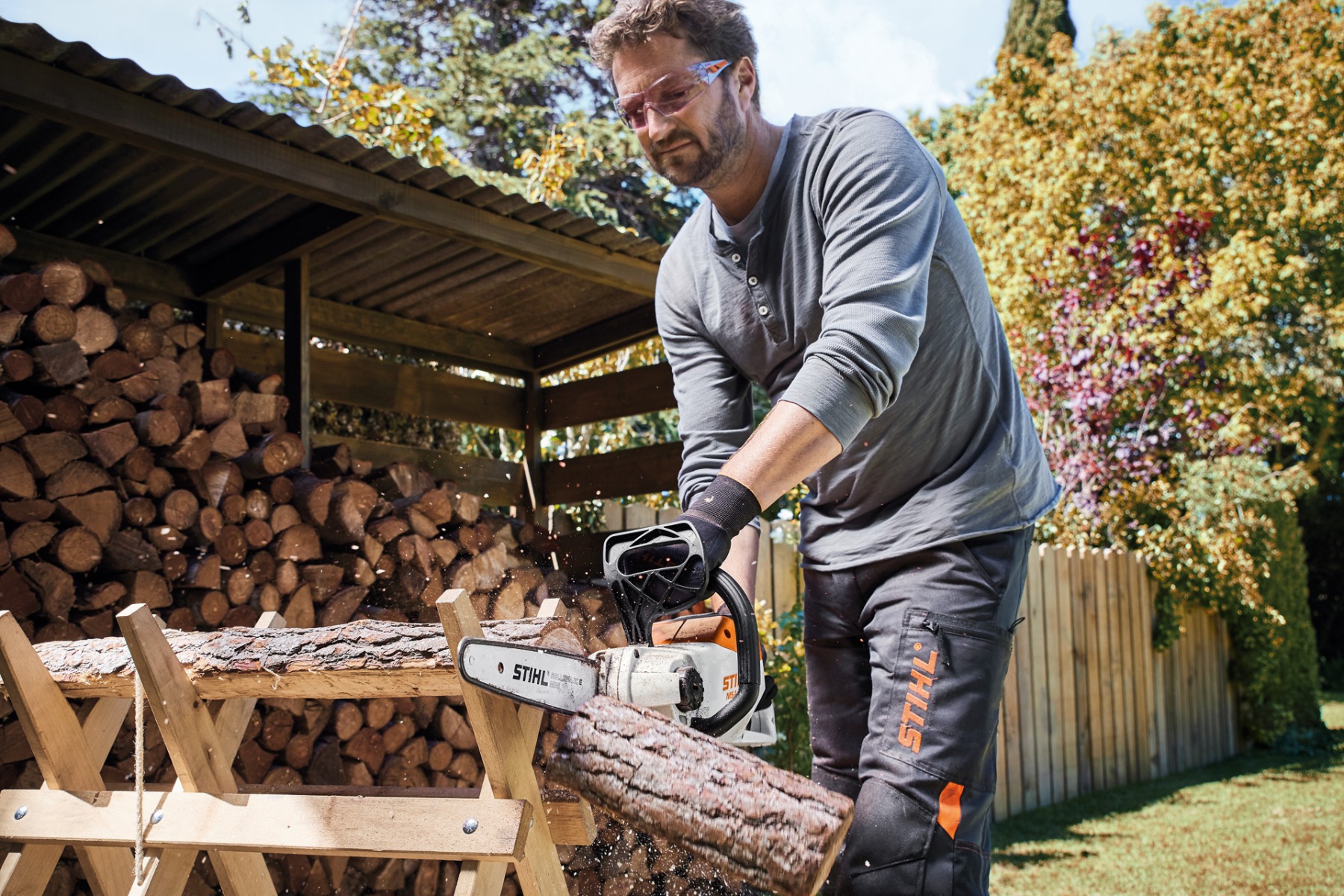 If you have bigger logs and branches to cut through, the MSA 140 has a faster chain speed so it will provide 25% greater cutting performance. To deliver a higher level of power, we recommend using the larger capacity AK 30 battery which provides approx. 45 minutes of run time, and with the faster chain speed, you will get around 180 cuts in 10cm x 10cm timber, which is a lot of firewood!
STIHL AK BATTERY LINE TRIMMERS
The STIHL FSA 57 Battery Line Trimmer is the perfect tool for garden tidy-ups and lawn edging, and it will run for around 25 minutes with the recommended AK 10 battery - mow up to 125 m² of grass or 625 m of lawn edges. The FSA 57 is easy to use, lightweight, and features an adjustable length shaft and handle to ensure comfortable operation for all users.
Fitted with an AutoCut C 3-2 cutting head and STIHL 1.6 mm blue nylon line, it provides excellent grass trimming performance and, when you need to extend the line, simply tap it on the ground - it couldn't be easier, and you won't have to stop in the middle of a job. When the nylon line runs out, it can be replaced without tools.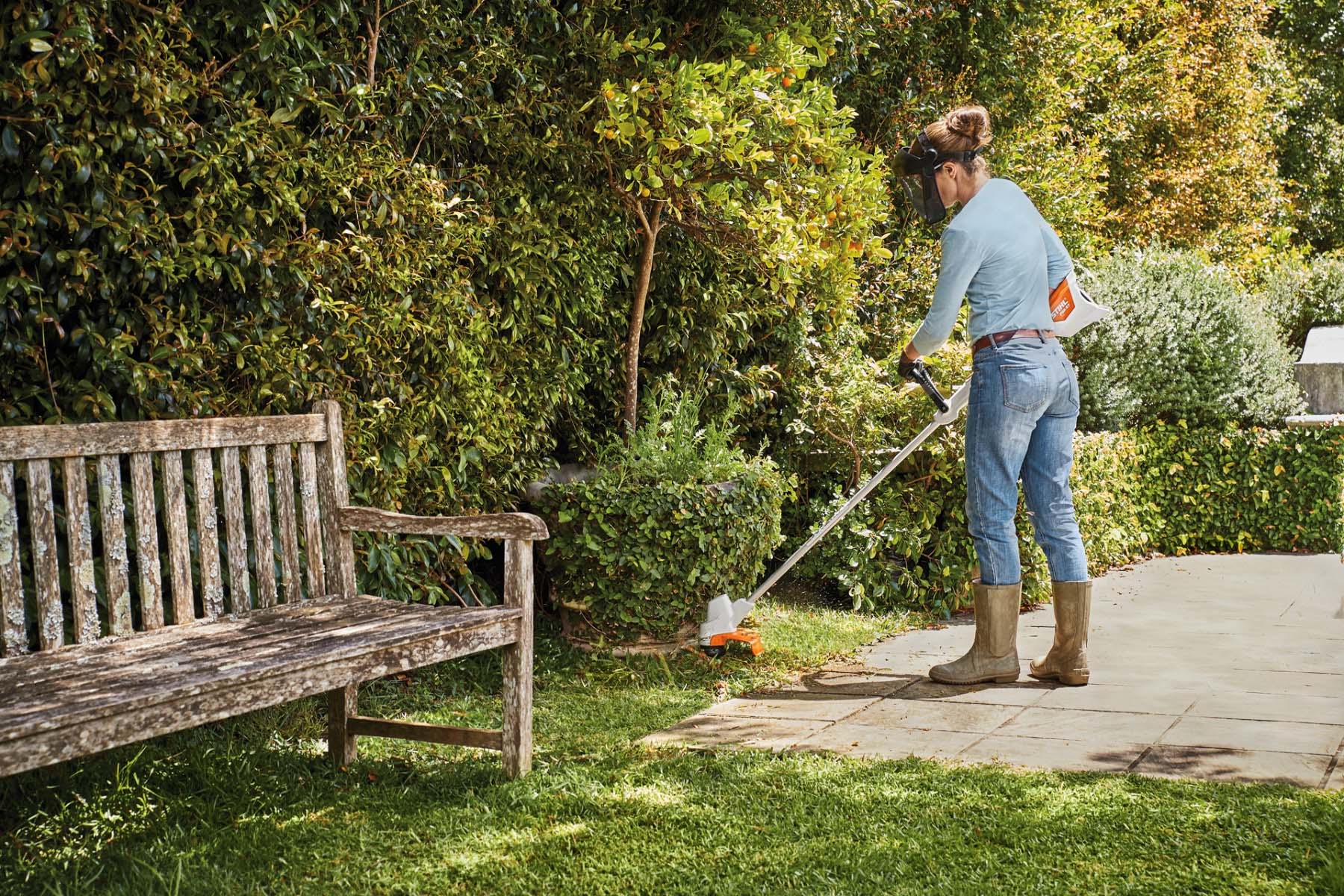 STIHL AK BATTERY LAWNMOWERS
You have the choice of three Lawnmowers in the STIHL AK Battery range. They are all light and easy to manoeuvre, and provide excellent grass collection and cutting performance. They even have easy to use central height adjustment for their blades, and easy-opening grass catchers with a fill-level indicator. With features like these, mowing the lawn will feel like a walk in the park!
The RMA 235 is an excellent choice for small gardens. At only 14 kg, this model is really light which makes moving it around obstacles in the garden really easy. Using the recommended AK 20 battery, the RMA 235 can mow up to approximately 250 m² of lawn on a single charge.
The RMA 339 and RMA 399 C will mow approximately 400m ² of lawn on one battery charge when using the recommended AK 30 battery. The difference between these two models is the handle design: the unique Mono handle for the C-version can be adjusted to suit your height, folds over for storage, and best of all - it gives you easy access to the grass catcher when it needs emptying.

Lastly, the robust RMA 460 has a steel deck and offers maximum versatility with 4 functions: Mowing, mulching, catching, and side discharge. That way, your lawn will look exactly how you want it to without compromise.
STIHL AK BATTERY LEAF BLOWERS
Powerful yet noticeably quiet (especially for a Blower) the STIHL BGA 57 Battery Leaf Blower gives you the ability to clear debris such as leaves and grass clippings from pathways with comfort and ease. The adjustable blower tube has 3 levels to choose from to match your height, and the control handle is easy to use - with the trigger lockout designed symmetrically so it can be used just as easily whether you are right or left-handed. Using the recommended AK 20 battery, the BGA 57 has a working time of up to 22 minutes and can clear roughly 760 m² of dry leaves.
STIHL AK BATTERY HEDGE TRIMMERS
The HSA 56 battery-powered Hedge Trimmer is exceptionally lightweight, weighing at just 3.8kg with the recommended STIHL AK 10 battery, so it's ideal for trimming back bushes, shrubs and hedges in your garden without the usual hedge-trimming arm ache! The 45 cm double-edged diamond-ground blades deliver a neat finish, and the droplet shape guides twigs and branches into the blades for an even cut. Plus it comes with a blade-tip protector in case you are trimming near the ground or hard surfaces like walls. Using the HSA 56 with the recommended AK 10 battery will give you around 50 minutes of working time, so you should be able to trim around 175 m2 of hedge on one charge.
STIHL AK BATTERY POLE HEDGE TRIMMERS
If you need a Hedge Timmer with a bit more reach, the HLA 56 Long Reach Battery Hedge Trimmer is the tool for you. The HLA 56 is 210 cm long, and the shaft can be split into two to allow for easy storage and transport. You can also get a 50cm shaft extension for those really high hedges. The head can be adjusted from -45° to +90° so you can trim the tops of hedges and add shape with ease. For perfect balance, we recommend using the STIHL AK 20 battery, which will give you around 100 minutes of run time, or enough time to trim 380 m2 of hedges.