If your lawn edges are starting to look a bit scruffy and you need a tool to tidy them up check out our guide below to help you decide which Line Trimmer is best for you.
WHAT IS A LINE TRIMMER?
Line Trimmers, also commonly known as a Weed Eater, Grass Trimmer, Weed Whacker and even Whipper Snipper are predominantly designed for light work around the garden or property. Most use nylon line for cutting grass but there are also some other cutting heads available for more challenging jobs.
WHAT ARE YOU TRIMMING?
If you need a tool for general garden maintenance such as trimming lawn edges or keeping your lawn neat and tidy as well as some light weed whacking, a Line Trimmer is ideal. If you are going to tackle very large and demanding jobs such as cutting through tough growth you need a Brushcutter.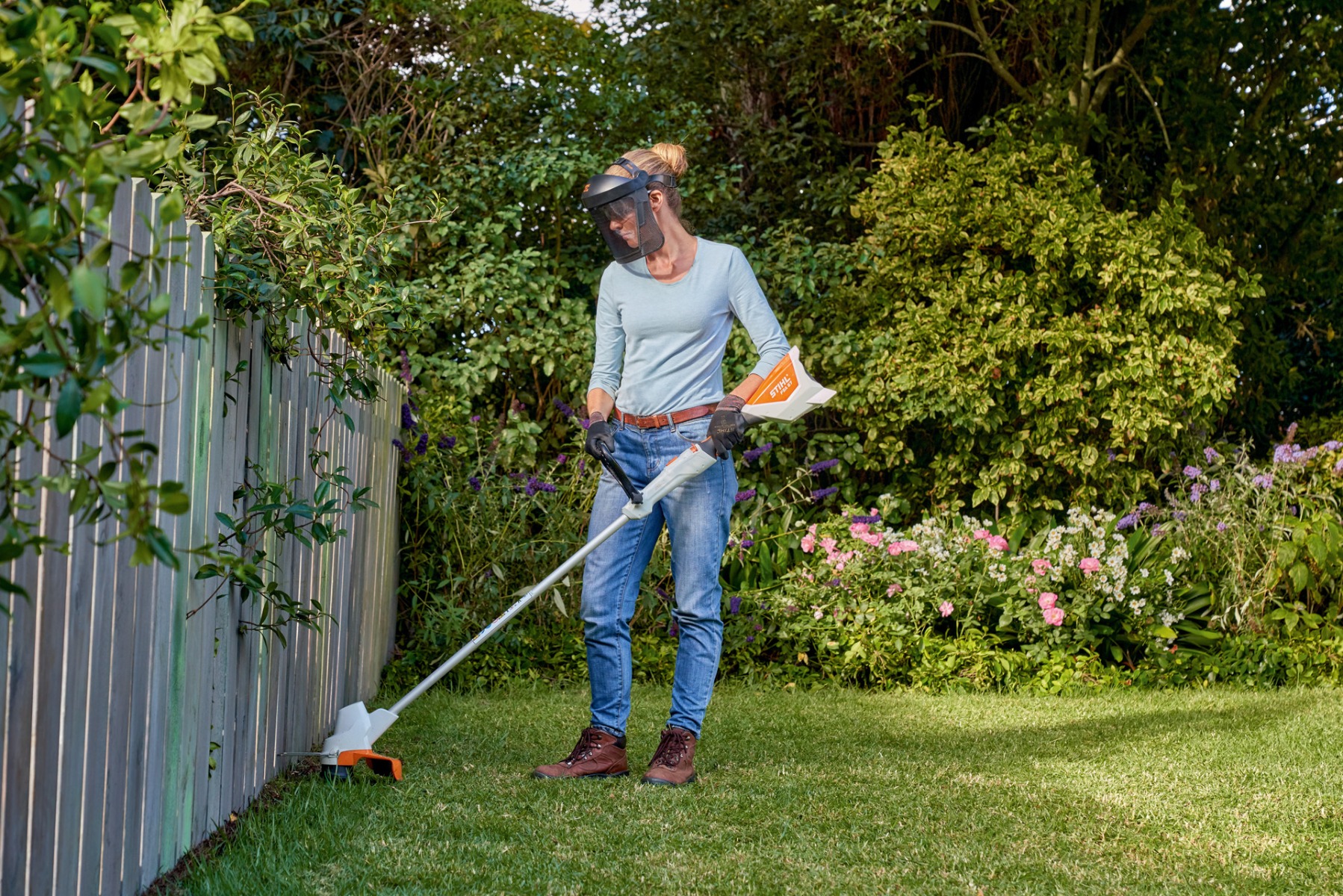 BATTERY LINE TRIMMERS
As battery technology has improved in recent years, the popularity of battery garden power tools has also grown substantially. STIHL Battery Line Trimmers are light, quiet and very easy to use, offering the perfect balance of power and convenience.
For a light and compact option the STIHL FSA 45 Battery Line Trimmer, weighing only 2.3 kg including integrated battery is the perfect tool for small gardens needing quick touch ups. The FSA 45 comes with plastic Polycut blades, which are incredibly easy to replace. In addition the adjustable head and shaft allow you to change the Line Trimmer into a lawn edger in a matter of seconds.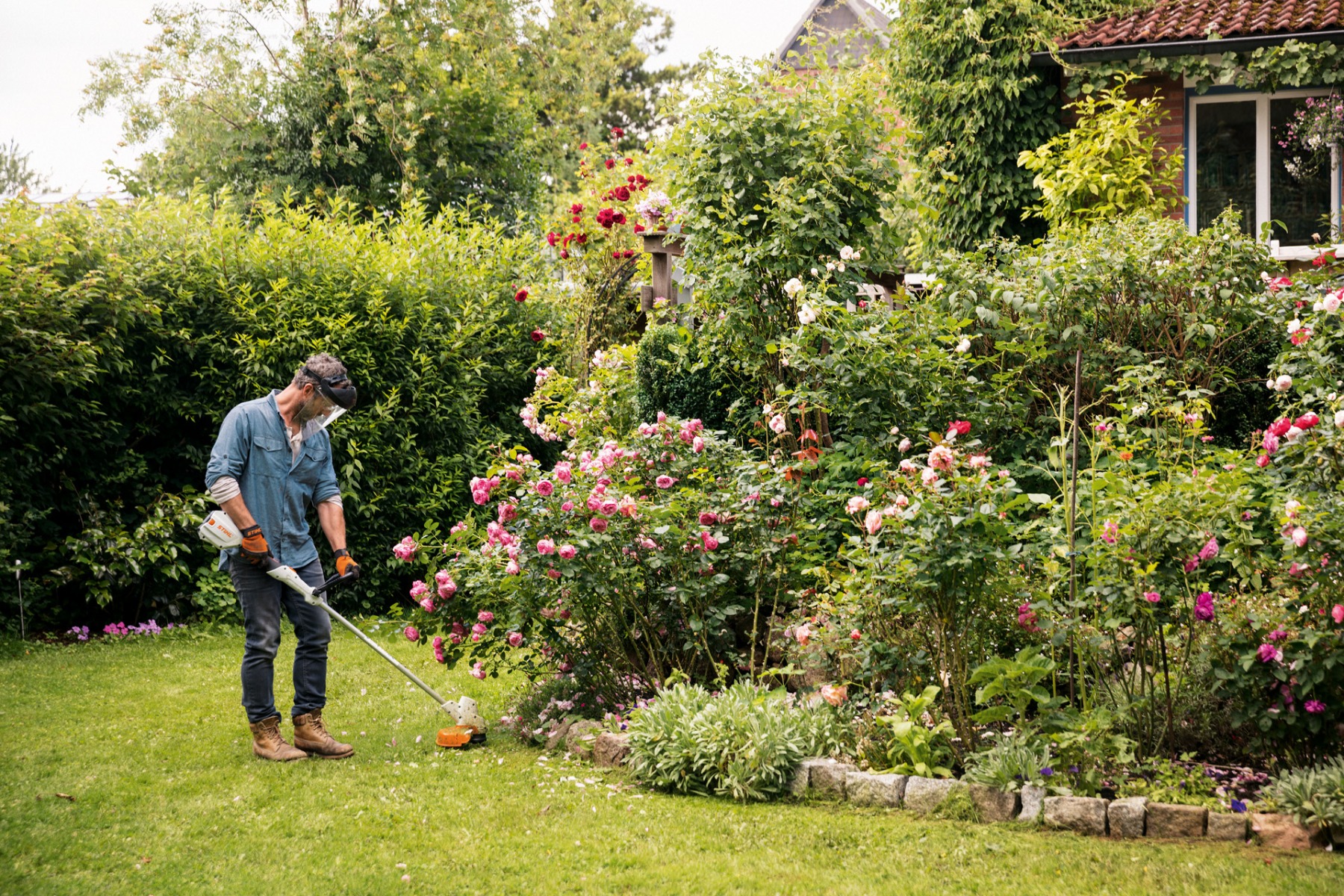 If you have a larger lawn to maintain then the STIHL FSA 57 offers all the power you will need and will trim up to 650 m² of lawn edges on a single battery charge using the standard AK 10 Battery. The 36V Lithium-Ion battery used to power the FSA 57 is interchangeable with the other tools in the STIHL AK Battery range, which includes three Lawnmowers, a Blower, two Chainsaws, a Hedge Trimmer and a Long-reach Hedge Trimmer. The FSA 57 can run both 1.6mm (standard) and thicker 2.0 mm diameter Nylon Line which gives you a good option for tackling slightly longer, thicker grass growth.
The STIHL FSA 60 R Battery Line Trimmer is the premium model in the AK battery range, this trimmer is solid and robust to handle tougher grass trimming tasks in medium to large gardens. It will trim 1,250 m of lawn edges using the AK 20 battery.
PETROL LINE TRIMMERS
The STIHL FS 38 and STIHL FS 45 are excellent curved shaft petrol Line Trimmers for garden trimming tasks, offering great power and value for money. They are very similar in performance, however the FS 45 provides a bit more power and comes standard with an easy-feed mowing head with a comfort grip, which makes re-loading the Nylon Line easier. The STIHL FS 45 C-E is exactly the same as the FS 45 with the added advantage of STIHL Easy Start, allowing anyone to start the Line Trimmer with one easy pull.
The next models up, the STIHL FS 55 R C-E and STIHL FS 55 C-E, are straight shaft Line Trimmers that feature Easy Start and can also be fitted with a metal grass blade for cutting tougher grass.
LINE TRIMMERS & BRUSHCUTTERS BY USE